TENISON-WOODS, JULIAN EDMUND (1832-1889), Catholic priest, educationist and scientist, was born on 15 November 1832 at West Square, London, sixth son of James Dominick Woods, of the Middle Temple, who also worked on The Times, and his wife Henrietta Maria Saint-Eloy, née Tenison.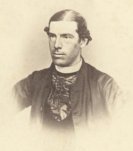 Early Life in England
TENISON-WOODS, JULIAN EDMUND (1832-1889), Catholic priest, educationist and scientist, was born on 15 November 1832 at West Square, London, sixth son of James Dominick Woods, of the Middle Temple, who also worked on The Times, and his wife Henrietta Maria Saint-Eloy, née Tenison. Among his ancestors were several outstanding Irish Catholic and Anglican religious leaders.
He attended Thomas Hunt's Catholic school, Kent House, Hammersmith, and, briefly, Newington Grammar School. In 1846 he worked for The Times then moved to Jersey with his family. In 1848 he assisted Fr Frederick Oakeley in a school at Islington and discussed the ideas of the Tractarian movement.
He joined the Passionist Order but ill health obliged him to continue his studies at Marist seminaries near Toulon, France, where he taught English at a naval college. His interest in natural history and geology appears to have started at this time.
In 1854 in England Tenison-Woods met Bishop R. W. Willson and accompanied him to Van Diemen's Land; they arrived in the Bernicia on 30 January 1855, but he disagreed with the bishop, left after about three months and went to Adelaide.
After working as sub-editor of the Adelaide Times he entered the Jesuit college at Sevenhill near Clare, was ordained as a diocesan priest on 4 January 1857 and took charge of the large parish of Penola, in south-eastern South Australia. In 1862 he published his first book, Geological Observations in South Australia. With Mother Mary MacKillop he helped to found the Sisters of St Joseph of the Sacred Heart at Penola in 1866.
Accurate Observer of the Physical World
Next year Tenison-Woods accepted the demanding and often controversial positions of director-general of Catholic schools and secretary and chaplain to Bishop Sheil. In 1867-69 he edited a religious magazine, the Southern Cross, but had to discontinue it in favour of the Irish Harp and Farmer's Herald, a more politically oriented journal, which contributed much to divisive diocesan quarrels.
A believer in mystical experiences including visions, in 1870 he began editing a new, devotional magazine, The Chaplet and Southern Cross, Advocate of the Children of Mary.
Next year he was eased out of Adelaide and until 1883 he conducted missions and retreats in New South Wales, Tasmania and Queensland, where in Brisbane on 15 June in 1874 he founded the Sisters of Perpetual Adoration. He was often at odds with his superiors, and clashed with Mother MacKillop.
Tenison-Woods was an accurate observer of the physical world and made original contributions to Australian geology, palaeontology and zoology. In 1883 Governor Sir Frederick Weld invited him to report on the geology and tin-mining resources of the Malay States. He also visited Java, Borneo, Siam and Japan, and saw some of the Krakatoa eruptions. In 1885 he was asked to survey the mineral potential of the Indian Archipelago.
He travelled widely in Australia and published over 150 papers in the journals and transactions of Australian learned societies and overseas periodicals; he contributed popular scientific articles to leading Australian newspapers.
His substantial reports to government departments described his geological surveys of coal resources and tin-mines in Queensland and the natural history of New South Wales; he published two accounts in 1864 and 1887 of the physical geography, mineral reserves and natural history of the Northern Territory.
Tenison-Woods's History of the Discovery and Exploration of Australia (London, 1865) in two volumes, and his serialized survey 'Australian bibliography' in the Australian Monthly Magazine, 1866-67, evidence wide scholarship.
Childlike Piety
A member of the Royal Asiatic Society, he was a fellow of the Geological Society of London and the Linnean Society of London and an honorary member of the New Zealand Institute, the Royal societies of New South Wales, Victoria and Tasmania and the Adelaide Philosophical (Royal) Society.
He was a president of and contributed papers to the Linnean Society of New South Wales and was a member of the Union Club, Sydney. William III of the Netherlands gave Tenison-Woods a gold medal for his book, Fish and Fisheries of New South Wales (Sydney, 1883) and he was awarded the 1888 (W. B.) Clarke medal of the Royal Society of New South Wales for his work in natural history.
In 1887, his health ruined, Tenison-Woods returned from the Northern Territory to Sydney, and was looked after by a group of religious women; he dictated a partly fanciful autobiographical memoir to them. He died of paralysis on 7 October 1889 and was buried in the Roman Catholic section of Waverley cemetery.
His estate, sworn for probate at £609, was left to Mary Jane O'Brien, commonly called 'Mrs Abbott', formerly a nun, who founded a refuge for unmarried mothers which later became St Margaret's Hospital.
Possessing profound, though romantic, religious convictions based on a childlike piety, Tenison-Woods was esteemed as a preacher and missionary; he was a dedicated priest, an outstanding though stubborn and individualistic religious leader and an advanced educator; although his original rules for the Sisters of St Joseph were modified, they retained his single-minded dedication to the education of poor children.
Professor A. Liversidge, aware of his scientific repute, praised his 'great simplicity, courtesy and kindness of manner'; and J. C. Cox, in testifying to his 'exuberant industry … [and] extraordinary variety of attainments', published in 1889 a bibliography of his writings in the Proceedings of the Linnean Society of New South Wales.
Select Bibliography
Boland, T. P., Quiet Women, Refulgence Publishers (Deception Bay, Queensland, 1974).
O'Brien, J., On Darlinghurst Hill (Sydney, 1952).
O'Neill, G., Life of the Reverend Julian Edmund Tenison Woods (Sydney, 1929).
Turney, C. (ed.), Pioneers of Australian Education, vol. 2 (Sydney, 1972).
Copyright © : D. H. Borchardt Australian Dictionary of Biography, Volume 6