Roger William Bede Vaughan, Catholic archbishop, was born on 9 January 1834 at Courtfield, Ross, Herefordshire, England, second son of the fourteen children of Lieutenant-Colonel John Francis Vaughan, a leading county figure, and his first wife, Louisa Eliza, daughter of John Rolls of The Hendre, Monmouthshire.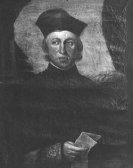 Roger William Bede Vaughan, Catholic archbishop, was born on 9 January 1834 at Courtfield, Ross, Herefordshire, England, second son of the fourteen children of Lieutenant-Colonel John Francis Vaughan, a leading county figure, and his first wife, Louisa Eliza, daughter of John Rolls of The Hendre, Monmouthshire.
The Vaughans were recusant gentry who had survived in possession of the Courtfield estate; the growth of religious toleration allowed them to resume a long tradition of leadership in church and state. Vaughan was status conscious: his great-uncle Thomas Weld was the first English cardinal since the Reformation, several uncles and cousins were priests and bishops, and his cousin Sir Frederick Weld was governor of Western Australia and Tasmania.
Of his five brothers who were priests, Herbert, the eldest, became a cardinal and archbishop of Westminster and John, the youngest, auxiliary bishop of Salford; another brother, Reginald, married Julia Shanahan, sister-in-law of Sir Patrick Jennings. Four of his five sisters became nuns.
Vaughan was probably afflicted with congenital heart disease. At 7 he was sent briefly to a local school, but his mother worried over his health and he was educated at home in a religious atmosphere.
In 1850 he was sent to St Gregory's College at Downside near Bath. His mother's death in 1853 prompted serious thoughts of a religious vocation and on 12 September he took the Benedictine habit as Brother Bede.
In 1855 at his father's request and expense, he was sent to Rome for further study under the guidance of the Italian scholar and reformer, Angelo Zelli-Jacobuzzi. He was ordained priest by Cardinal Patrizi in the basilica of St John Lateran on 9 April 1859.
Even before going to Rome Vaughan had considered English Benedictinism too lax and he returned to England in August eager for reform. After parish work and school-teaching at Downside, in 1861 he was appointed professor of philosophy at the new St Michael's Cathedral Monastery near Hereford, known as Belmont, and in 1861-72 he strove to make it the basis of a reformed monasticism.
In 1862 he was elected superior as cathedral prior of the diocesan chapter of Newport and Menevia and was re-elected in 1866 and 1870. Vaughan's Belmont was distinguished by 'the enthusiasm and fervour of both staff and students'; he had a profound influence on a generation of monks, though he complained of lack of financial support from the major monasteries and of their recalling of 'half formed monks' to be schoolteachers. By 1872 he was tiring of the personal 'begging' by which he had raised £5000 to keep Belmont solvent.
Another English Appointment
Vaughan's intellectual development had been stimulated by his years in Rome where he was influenced by the revival of Thomistic philosophy, but he distrusted the main trends in German philosophy and theology.
In the early 1860s he was in contact with Liberal Catholics, such as Lord Acton, associated with the Home and Foreign Review, and he contributed to the Dublin Review. He opposed the attendance of Catholics at the universities of Oxford and Cambridge as he feared it would destroy the English Catholic tradition.
Convinced that Thomism was Christianity 'in its scientific form', he published the first English biography of Aquinas as The Life and Labours of S. Thomas of Aquin in two volumes (1871-72). As prior of Belmont he won repute as a scholar and preacher but never again had time for major scholarly work. A tall, impressive figure, he seemed completely self assured but his brother Herbert believed he was 'so very impressionable, of such strong feelings [and] of such little knowledge of the world'.
In 1867 Herbert feared that Vaughan was in danger of losing control of 'his immensely strong feelings' in his friendship with the widowed Lady Herbert of Lea, who resembled his mother; but he emerged from this emotional crisis stronger, wiser and more mature.
In 1866 Archbishop Polding failed to get Vaughan as his coadjutor in Sydney; but he renewed his plea in 1871 and 1872 and gained the support of Cardinal Manning, who shared the British government's desire to have an Englishman appointed.
Vaughan's reluctance was also weakened by his discontent at Belmont and on 28 February 1873 he was appointed titular archbishop of Nazianzus in partibus infidelium, with the right of succession to Polding, and was consecrated at Liverpool by Manning on 19 March. He arrived in Sydney in the Nubia on 16 December.
The Irish suffragan bishops in New South Wales had failed to prevent 'the calamity' of another English appointment, and their protest to Rome was unavailing. In fact they had much in common with him in attitudes to Church government and discipline and to education.
To Vaughan, Polding was a relic and symbol of the old Benedictinism he had tried to reform. Quickly concluding that the colonial Benedictines based on St Mary's College, Lyndhurst, were 'rotten dead' and that the only hope was for a new foundation from Belmont, he recommended secularization in a scathing report to Rome. He closed Lyndhurst in 1877.
Breaking 'The Irish Masonry'
Vaughan found that Polding had 'let things run terribly to seed and disorder', both financially and in the condition of the clergy.
He demanded full powers as administrator and sole vicar-general, but Polding impeded relations with the suffragans and the planning of major initiatives. In 1874 Vaughan adroitly arranged his election as rector of St John's College, in the University of Sydney, and resided there.
Finding it 'a ruin without a student', he hoped to make it the centre for educating both a lay elite and a native clergy; he introduced regular part-time theological training for the clergy, who were mainly Irish.
He revelled in public controversy, beginning in 1876 with a strong retort to Bishop Barker in four 'Advent Conferences' that drew thousands to St Mary's Pro-Cathedral. Believing the colonies no place for 'polished frigidity' and that colonial audiences were 'a regular lot of rhinoceroses', he consciously adapted his style but too often the result was verbosity and over-reliance on 'resonant phrases, ridicule and humour', though he was a popular preacher.
At his worst he could descend to irrational fantasy as in Hidden Springs (1876); at his best he could popularize a rational defence as in Arguments for Christianity (1879). He succeeded Polding as archbishop of Sydney on 16 March 1877.
In 1874-75 Vaughan had investigated the alleged indiscretions of Bishop O'Mahony and reported that he should resign.
Bishop James Quinn intervened and the case embittered episcopal relations; it also undermined Vaughan's ability to concert an education policy and plan a reforming synod; but his judgment was upheld by Rome despite opposition from (Cardinal) P. F. Moran. Determined to break 'the Irish masonry', he influenced the appointment of E. Torreggiani as O'Mahony's successor.
In 1878-79 Vaughan administered the diocese of Armidale and was given 'the hateful task' of investigating complaints against Quinn; he recommended the appointment of a coadjutor with succession rights, but Quinn died in 1881 and his brother Bishop Matthew Quinn accused Vaughan of persecuting him to the grave.
Vaughan and Education
Vaughan found New South Wales Denominational education on the defensive and concluded there would be 'godless' secular education 'in the end', so Catholics must prepare to organize their own system from their own resources.
Ready to take the initiative in rousing Catholics with 'a small earthquake', Vaughan was handicapped by the distrustful suffragans. Faced with plans for state grammar schools and the formation of the strong Parkes-Robertson coalition ministry, he was delighted when Matthew Quinn offered in April 1879 to co-operate.
A bishops' meeting in May left Vaughan to draft a joint pastoral; published in July as Catholic Education, it condemned schools founded on 'secularist' principles as 'seedplots of future immorality, infidelity and lawlessness', and precipitated fierce sectarian conflict which helped Parkes to abolish state aid. Vaughan rightly believed that the pastoral was the occasion not the cause of the 1880 Public Instruction Act.
He issued five more pastorals in the next six months, spoke constantly in defence of Catholic rights and, enjoying 'real stand up public fighting', provoked Parkes to brand him as 'seditious'.
In 1880 Vaughan bought the Catholic Times from J. G. O'Connor and published it as the Express to personally 'red pepper' his opponents.
In organizing an education system he could build on the sound financial administration he had introduced, but religious teachers were essential. He had early established good relations with the Marist Brothers and in 1877 he invited the Jesuits to open secondary schools; from 1878 he provided welcome patronage for Mother Mary MacKillop's Sisters of St Joseph in their troubles with the Quinn brothers.
In 1873-83 the number of schools and pupils more than doubled; by 1883 12,500 of Sydney's 15,200 Catholic children were in the system.
One Last Journey
Realizing that education would now dominate Church finance, Vaughan made a major effort to build a usable section of the new St Mary's Cathedral before all state aid ended in 1882.
To complete a plan by William Wardell, he raised almost £30,000 in two and a half years by writing about 3000 personal letters. He dedicated the new cathedral in September, but under the physical strain of incessant work his health was rapidly deteriorating.
He had travelled constantly throughout the archdiocese as far as Brisbane in episcopal visitations. Late in 1882 he announced that he would make an ad limina visit to Rome intending to recruit religious teachers and plan for a synod late in 1883.
He left Sydney on 19 April 1883 and travelled slowly to Europe via North America. At Liverpool he went to the near-by home of Weld relations, Ince Blundell Hall, and on 18 August he died of heart disease in his sleep.
He was buried there in the family vault but his remains were moved to Belmont in 1887 and finally reburied in the crypt of St Mary's Cathedral in August 1946. Vaughan left almost all of his estate, valued for probate at £61,828, to his successor.
Bibliography
J. T. Donovan, The Most Rev. Roger Bede Vaughan, D.D., O.S.B., Archbishop of Sydney, Life and Labours (Syd, 1883)
H. N. Birt, Benedictine Pioneers in Australia (Lond, 1911)
S. Leslie (ed), Letters of Herbert Cardinal Vaughan to Lady Herbert of Lea (Lond, 1942)
C. B. Whelan, The History of Belmont Abbey (Lond, 1959)
A. G. Austin, Australian Education, 1788-1900 (Melb, 1961)
P. J. O'Farrell, The Catholic Church in Australia, 1788-1967 (Melb, 1968)
Downside Review (Bath, England), Jan 1884
Courtfield papers (National Library of Wales)
Vaughan family papers (privately held)
Abbey Archives (Downside, Belmont, Ampleforth, England)
Irish College Archives (Rome)
Propaganda Congregation Archives, Vatican Secret Archives (Rome)
Roman Catholic Archives (Sydney, Maitland, Bathurst, and Goulburn, New South Wales)
Copyright © A. E. Cahill Australian Dictionary of Biography, Volume 2