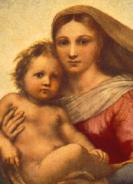 Chief among all the saints is the Blessed Virgin Mary, Jesus Christ's own mother. We honour her and pray to her more than all the other saints because of her unique place in the whole story of Christianity. The first chapter of the gospel according to St Luke tells of how the angel Gabriel spoke to her and told her that God had chosen to become man and be born of her. This is the scene.
The angel says:
"Hail, O favoured one, the Lord is with you!"
She is amazed and afraid at the vision of the angel and his words. He reassures her:
"Do not be afraid, Mary, for you have found favour with God. And behold, you will conceive in your womb and bear a son, and you will call his name Jesus. He will be great and will be called the Son of the Most High; and the Lord God will give to him the throne of his father David, and he will reign over the house of Jacob for ever; and of his kingdom there will be no end".
Mary asks how this is possible, since she is a virgin and, she implies, intends to remain one. The angel replies:
"The Holy Spirit will come upon you, and the power of the Most High will overshadow you; therefore the child to be born will be called holy, the Son of God."
She is given a sign by which she will know that this message is from God. She will find that her aged cousin, Elizabeth, wife of Zechariah, is already six months pregnant. Mary says:
"Behold, I am the handmade of the Lord,- let it be to me according to your word" (Luke 1,28-38).
Mary is far more sacred than the Holy of Holies, where God dwelt in the Temple in Jerusalem, for she is to bear within her womb the Saviour himself, God-made-man.